---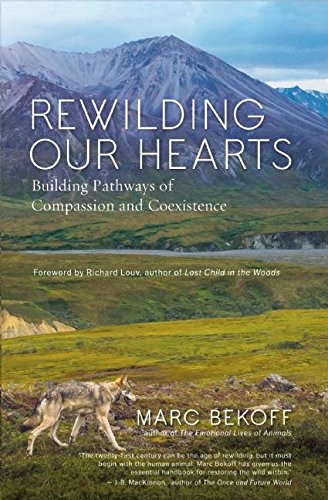 Book
Rewilding our hearts : building pathways of compassion and coexistence
Copies
1 Total copies,
1
Copies are in
,
0
Copies are out
.
"In wildlife conservation work, rewilding - to make wild once again - refers to the creation of corridors between preserved lands that allow declining populations to rebound. Marc Bekoff, one of our most engaging animal experts and activists, here applies the concept to human attitudes. He argues that unless we rewild ourselves, becoming profoundly reconnected to nature and fundamentally shifting our consciousness, our conservation efforts will have but limited impact. Bekoff shows that when we make the effort to not just see, but to empathetically become "the seen, " our perspective on animals and their habitats changes in profound ways. As we shift to acting from the inside out, our efforts move beyond simply reacting to current crises and become powerfully proactive. Ultimately, Rewilding Our Hearts invites readers to become re-enchanted with our world, and by dissolving false boundaries, to truly connect with both nature and ourselves. "-- ""A call to reverse the loss of global biodiversity and habitat by changing human attitudes, such as our sense of connection to nature and our enchantment with the world. Author is a professor emeritus of ecology and evolutionary biology"--Provided by publisher. Provided by publisher.
Title
Rewilding our hearts : building pathways of compassion and coexistence
Published
Novato, California : New World Library, 2014.
Publication Desc
xv, 198 pages ;
ISBN
9781577319542 (pbk.)