---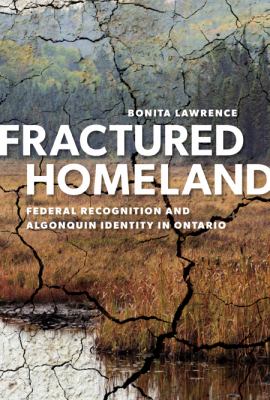 Book
Fractured homeland : federal recognition and Algonquin identity in Ontario
Copies
1 Total copies,
1
Copies are in
,
0
Copies are out
.
In 1992, the Algonquins of Pikwakanagan, the only federallyrecognized Algonquin reserve in Ontario, launched a comprehensive landclaim. The claim drew attention to the reality that two-thirds ofAlgonquins in Canada have never been recognized as Indian, and havetherefore had to struggle to reassert jurisdiction over theirtraditional lands. "Fractured Homeland" is Bonita Lawrence's stirringaccount of the Algonquins' twenty-year struggle for identity andnationhood despite the imposition of a provincial boundary that dividedthem across two provinces, and the Indian Act, which denied federalrecognition to two-thirds of Algonquins. Drawing on interviews withAlgonquins across the Ottawa River watershed, Lawrence voices theconcerns of federally unrecognized Algonquins in Ontario, whoseancestors survived land theft and the denial of their rights asAlgonquins, and whose family histories are reflected in the land. Theland claim not only forced many of these people to struggle withquestions of identity, it also heightened divisions as those wholaunched the claim failed to develop a more inclusive vision ofAlgonquinness.This path-breaking exploration of how a comprehensive claims processcan fracture the search for nationhood among First Nations also revealshow federally unrecognized Algonquin managed to hold onto a distinctsense of identity, despite centuries of disruption by settlers and thestate. Bonita Lawrence (Mi'kmaw) teaches Indigenousstudies at York University in Toronto. She is the author of""Real" Indians and Others: Mixed-Blood Urban NativePeople and Indigenous Nationhood."
Title
Fractured homeland : federal recognition and Algonquin identity in Ontario
Published
Vancouver : UBC Press, 2013.
Publication Desc
327 p. : ill., maps, port. ;
ISBN
9780774822886 (pbk.)