---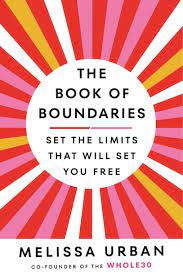 Book
The book of boundaries : set the limits that will set you free
Copies
1 Total copies,
0
Copies are in
,
1
Copies are out
.
"How often do you tell yourself to just "let it go" when you want to do anything but? Do you say "it's fine" when, really, it's not at all fine? When people do things that hurt you, do you speak up--or do you worry that saying anything will just make everyone uncomfortable? Do you feel resentful, depleted, or overwhelmed? If you answered yes to any of these questions, you need to establish some boundaries. Melissa Urban knows firsthand that boundaries-a few carefully selected words, spoken with kindness and from a place of self-care-are all that stand between you and feelings of ease and freedom. Since launching the mega-bestselling wellness program the Whole30, Urban has taught millions of people how to establish healthy habits and how to deal with pushback and peer pressure. Now, in The Book of Boundaries, she shows how establishing boundaries is the key to better mental health and self-confidence, improved productivity, greater energy, and more fulfilling relationships. In her no-holds-barred and still empathetic style, Melissa Urban offers: 130+ scripts with language you can implement today to instantly establish boundaries with supervisors and colleagues, family members and children, friends and lovers-and yourself actionable advice to help you communicate clearly and with compassion ways to read the signals that someone's about to push your boundaries tips to help enforce your limits around food, drink, tech, and more."-- Provided by publisher.
Title
The book of boundaries : set the limits that will set you free
Published
[Toronto] : Penguin, 2022.
Publication Desc
x, 355 pages ;
ISBN
9780735243217 (hardcover)
Target Audience
Adolescent